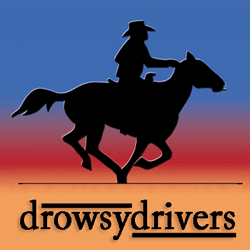 Howdy y'all! You've stumbled upon the gateway for the Drowsy Drivers, the Duskbuskers, um, the Spiegelensemble, a few Interrobang Cartel numbers, a whole bunch of other stuff… basically anything involving the songwriting work of Casey Bennetto (that's me!) and his disreputable friends.
I'm still updating the site (in my own sedentary manner); I moved it over to WordPress a while ago, but this is the first chance I've had to clean up some edges and put up some… what's that word? oh yes, content. You'll find lyrics and demo recordings for most songs under either 'Songs' or in the shows listed (obviously depending on whether they were standalone tunes or attached to a larger project). I've finally reposted the Drowsy albums (almost) in full; all extant "KEATING!" demo recordings are online for the first time, as is the entire Spiegeltent set and a few from "Evening". As ever, they're all pretty rough-and-ready, so be kind! I've got a few of my contributions to Interrobang Cartel and the RRR 2007 election songs posted, and if you look around I'm sure you'll find other stuff, you glutton for aural punishment, you.
This is also the place to come for new stuff, when there's new stuff to be had. I'll try to do a better job of maintaining the site in the future, I promise, and hopefully get a nice regular flow of new songs up – but as Yoda might say, in the eating the pudding the proof of shall be. Thanks for dropping by, anyway!
(By the way, if you're looking to get in contact with me, use the form here.)